 Dua Kelinci Products Penetrates International Mainstream Market, Prime Export to Australia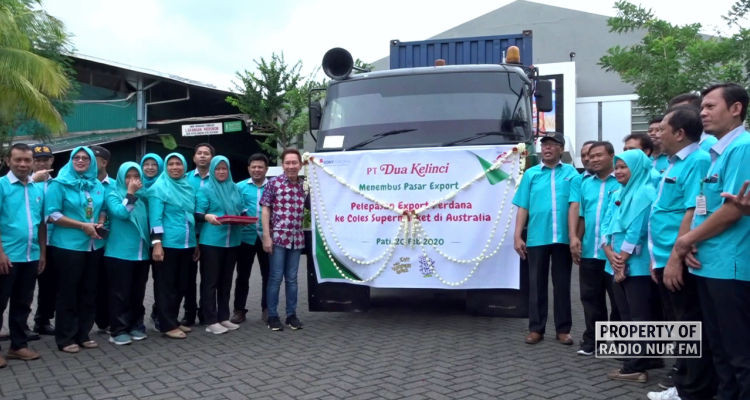 Pati, nurfmrembang.com - PT Dua Kelinci (Dua Kelinci Limited Company) despatches one unit of prime container to export needs of International Mainstream Market in Australia, Thursday (20/2/2020). The container was sent off in PT Dua Kelinci industrial area, Pati.
The Export Director of PT Dua Kelinci, Anton Suwito explains that the product will be sent to one of the famous mainstream supermarkets in Australia, Coles Supermarket. They are gonna send two containers.
"We sent it to Australia, Coles Supermarket, one of the biggest supermarkets in Australia. They directly ordered two containers and we are gonna send it today," Anton explained to the reporters.
Anton mentions if PT Dua Kelinci has done International Market Export from long ago. It's been 6 or 7 years but It was not the mainstream market. It's not easy," he says.
In this prime dispatch, PT Dua Kelinci prepared two snack products with some flavors variants. There are Banana Crunch and Wafer Mini Bites for three flavors variants.
"For this 2020, Australia becomes a market that gets special attention. We have done the export to 30 countries in Asia and Europe so far. It becomes our new notes because we are able to penetrate in Famous Australian Supermarkets. Now, other supermarkets put their attention to us," he added.
Anton is not denying if the international export market is filled by the competitors that majorly come from European countries.
"From Indonesia, it's just us and Indomie as the products that are able to compete in the International Mainstream Market. The competitors come from European countries because they have competitive products. This definitely motivates us to be better and produce a better product as well."
Operational Director of PT Dua Kelinci Pati, Gatot Sumartono mentions if those two products are only available for Export Market and not freely sold in Indonesia.
"Because this Banana Crunch and Minibites are made special for Export and we don't sell it in Indonesia. Our packaging process is adjusted to International Standard Needs so we hope it will motivate other products to penetrate the International Mainstream Market," he explained. (DM/AI)