 Sukro and Krip Krip Tortilla Give Support to Esports Industrial Development and Competition in Indonesia by Sponsoring RRQ and Evos Esports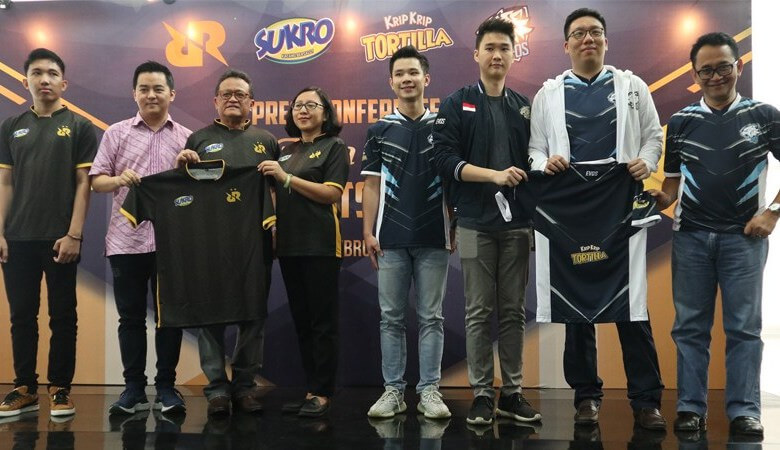 Sukro and Krip Krip Tortilla, reputable brands snack of PT Dua Kelinci has committed to giving full support toward potential enhancement and achievement of Indonesian next generation who compete in new rising sports, Esports. As an affirmation, today these two brands announce if they have officially cooperated with two famous professional Esports teams, Rex Regum Qeon (RRQ) and Evos Esports.
RRQ and Evos Esports are very popular esports teams and having the complete gaming division in Indonesia currently. So, those two brands are taking the chance by Sukro, a peanut product that sponsors RRQ, and Krip Krip Tortilla, a tortilla chips product that sponsors Evos Esports. Each logo of those brands has been put on the official jersey that is worn by each team.
Today in the press conference, management of PT Dua Kelinci, especially Sukro and Krip Krip Tortilla stated the form of cooperation by the sponsorship of those two professional teams as the first step to support Esports Industrial Development and Competition in Indonesia.
The increasing popularity of Esports since Asian Games 2018 has interested the Indonesian youngsters. As a traditional sport, esports also has a considerable fanbase and various accomplished professional teams. Even those teams are not only competing in regional competition but also national and international competition.
"Since the beginning, we have followed esports development as a hobby that attracts Indonesian youngsters. After Esports is inaugurated by the Ministry of Youth and Sports of the Republic of Indonesia, we are getting more sure to support this activity that could encourage them to be more positive," said Edwin Sutiono, Director of PT Dua Kelinci. Besides that, Esports players in Indonesia have reached 20 million people. The data shows if user gaming penetration will reach 12,5% in 2023. "This fact becomes our background to seriously sponsor the Indonesian Esports team thru Sukro and Krip Krip Tortilla brands because we want to get closer in the daily life of esports enthusiasts," he added.
The press conference was also attended by the representatives of each team that is supported by Sukro and Krip Krip Tortilla. The presence of the RRQ team in the press conference was represented by their champion, Ikhsan a.k.a Lemon. Established in October 2013, RRQ has ambitions to be the leading esports team in the South East Asia region by presenting accomplished teams in every division of Point Blank, Mobile Legends Bang Bang, CS:GO, Arena of Valor, PUBG, and PUBG Mobile.
"We are very proud of getting support from this big company which means they are showing great attention in supporting youth interest in esports," said Andrian Pauline, CEO of RRQ. "This cooperation between RRQ and Sukro is proof to always support us to win the game in every competition we participate in."
Esports Evos was represented by Jess no Limit, Rekt, G, and Jiao. This professional esport team has been established since 2016. Started from DOTA 2, now EVOS Esports has a team with players that are specially plotted to play Mobile Legends, League of Legends, Arena of Valor, and Point Blank.
Hartman Harris, CFO of Evos Esports said if this form of support thru sponsorship should be an example for the Domestic industry as an effort to give support toward the advancement of the esports industry in Indonesia. "This could encourage and boost the spirit of youngsters to achieve higher accomplishment and make the country proud of them," he said.
Official Sukro Instagram: @sukroduakelinci
Facebook: @SukroDuaKelinci.