 PT Dua Kelinci is Back to Being the Official Partner of Real Madrid Football Club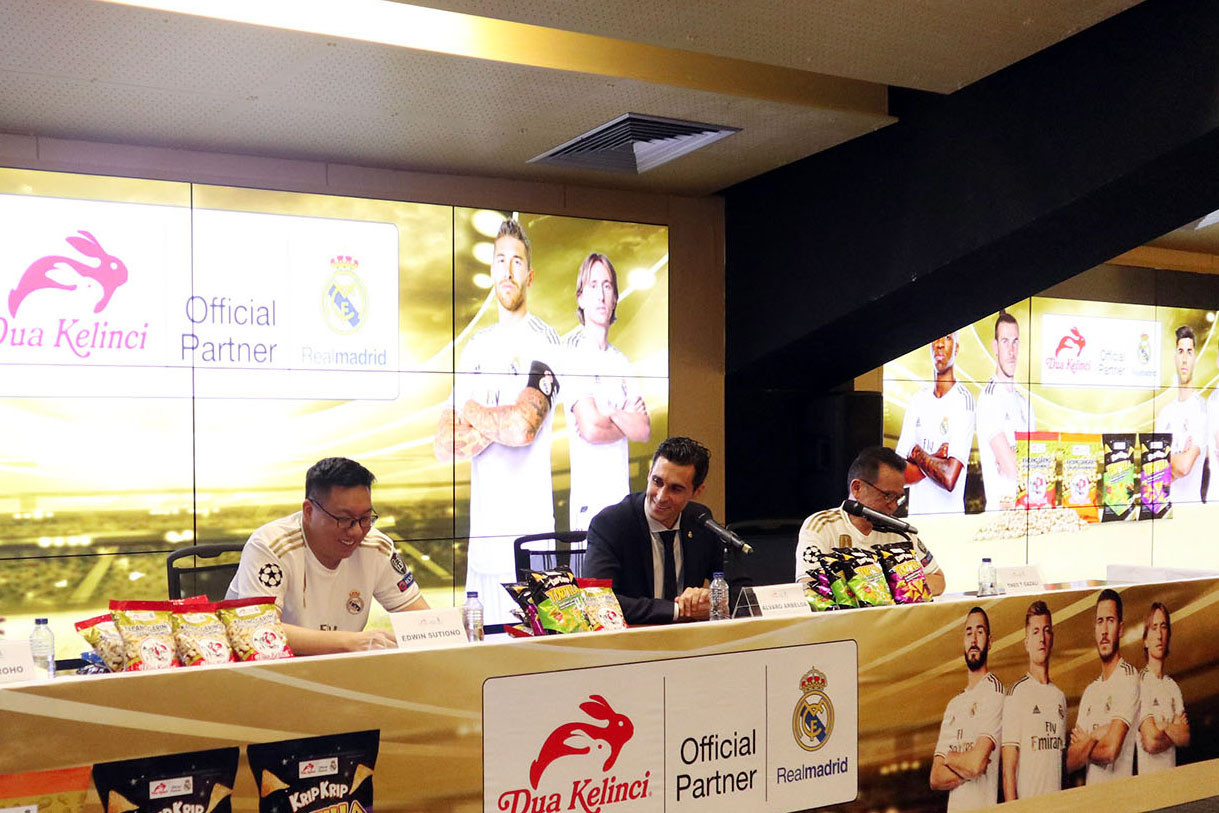 Jakarta, 23 January 2020 - For the second time, PT Dua Kelinci becomes Official Partner of Real Madrid. PT Dua Kelinci previously had been cooperating with Real Madrid in the 2011-2014 period. Alvaro Arbeloa, one of Real Madrid legend, attended the press conference as the Club Ambassador of Real Madrid accompanied by the director of PT. Dua Kelinci, Edwin Sutiono.
In the previous partnership period, the synergy between PT Dua Kelinci and Real Madrid has succeeded in bringing the Dua Kelinci brand closer to soccer fans, especially Read Madrid fans in Indonesia. Starting in 2011, Dua Kelinci held an event called "Indonesia Menggiring Bola" that showed Luis Figo, one of the club's legends from Portugal, to Indonesia. Afterward, another event called "Indonesia Mengoper Bola" was held in 2012 where the event was succeeded and attended by Xabi Alonso. The success of the event continued in 2014 with the arrival of Gareth Bale that has been long-awaited as an inspirational role model for Indonesian children to reach their dreams through the "Indonesia Menyundul Bola" event.
in 2020 for the 4 years period to come, PT. Dua Kelinci continues the collaboration with Real Madrid. "We start the new partnership chapter with Real Madrid since we acknowledge the previous collaboration has been proven and succeeded to bring Dua Kelinci closer to countless fans of Real Madrid and soccer fans in Indonesia," Edwin Sutiono said.
By "The Real Football Funtastic" theme, PT. Dua Kelinci will excite Real Madrid fans in Indonesia, known as Madridistas, with the collections of Real Madrid merchandises, opportunity to watch the Real Madrid match in Santiago Bernabeu, and a chance to attend Meet and Greet with Real Madrid stars, and participating in "Running" event with soccer theme that will be held next.
Young Indonesian footballers could take advantage of this collaboration by joining the invitation tournament for the football schools (SSB) where the champion of the tournament will have a rare opportunity to get training by the coach of Real Madrid Academy. Moreover, the best talent will get a chance to be schooled in Real Madrid Academy.
"Indonesia is a very important country for Real Madrid. We are proud of having this cooperation with Dua Kelinci for the second time," the Club Ambassador of Real Madrid, Alvaro Arbeloa said.
About Real Madrid
Real Madrid was established in 1902 and became the most successful football club in European Cup history and one of the most famous in the world of sport. This club has won the record of 33 titles of Primera Division, 19 Spanish Cups (Copa del Rey), 11 Spanish Super Cup. Real Madrid also has won the record of 13 titles of UEFA Champions League, 4 European Super Cup, and 7 trophies of FIFA Club World Cup. Real Madrid is also recognized as The Best Club of The 20th Century by FIFA.
About PT Dua Kelinci
By 25 years of experience in the food industry, PT Dua Kelinci has become one of the famous and reputable snack manufacturers in Indonesia. With the big spirit and energy, our team has succeeded to provide selected quality peanuts, nuts, and beans that we present in tasty and healthy goods. By the product's innovation and development, we expand our product portfolio into wafers, drinks, and chocolate categories in fulfilling consumer needs for tasty and quality products to consume.