 Garena Presents Experience Zone with Sukro in EXGCon 2019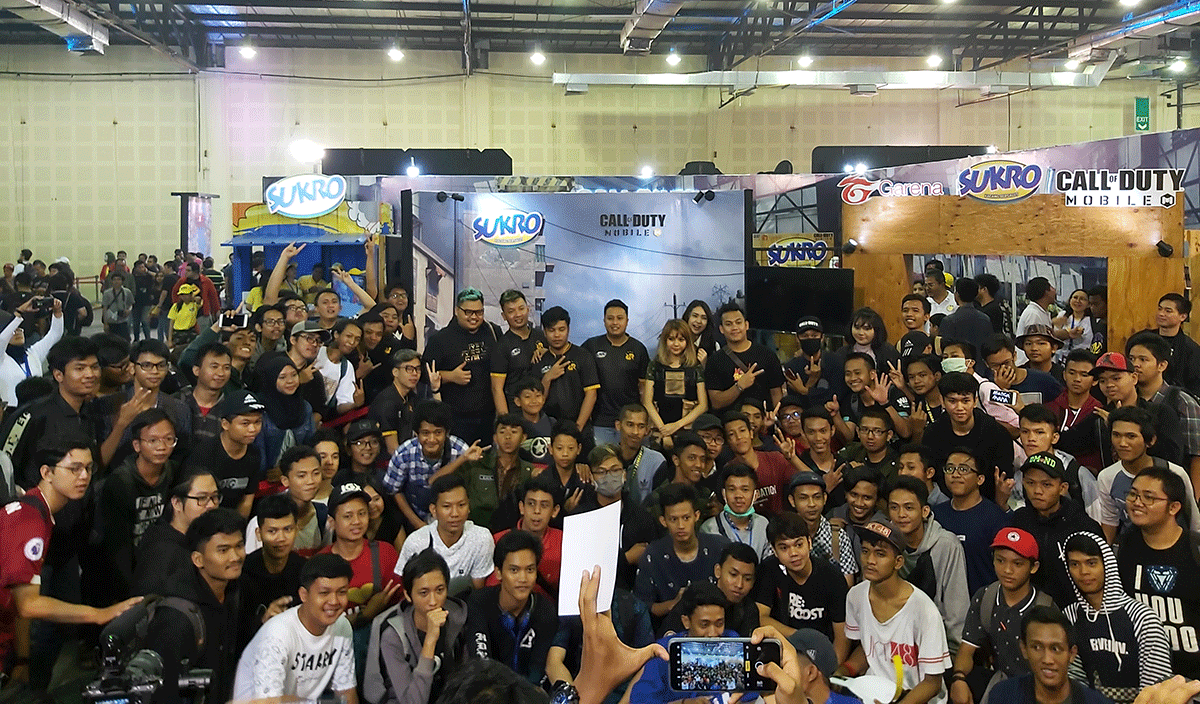 In EXGCon 2019, there are a lot of booths which are opened where the visitors could come by and enjoy a variety of games that are provided there. Among all the booths, there are three Experience Zones which one of them belongs to Garena Indonesia and Sukro with Call of Duty Mobile theme. Interestingly, the enthusiasm of EXGCon 2019 visitors that want to visit this booth is quite large where it is shown by the long queue on this booth.
Experience Zone of Garena Indonesia and Sukro is located exactly in front of the entrance gate of the main venue area. So that the visitors are always taking time to queue to see and check the situation of that Experience Zone where a lot of offline games are available here.
According to Dua Kelinci Brand Manager, Candri, in this Experience Zone Call of Duty Mobile provides a lot of exciting activities that suit the game published by Garena Indonesia. There is Rotator 360 where the pictures of the visitors are taken to experience the picture of customisation and character selection just like in Call of Duty Mobile. There are also a shooting game and a grenade-throwing game with prizes that could be obtained if the players succeeded to achieve certain target scores.
"We also have Make-Up Zombie where all the EXGCon visitors that buy our product's package and want to be dressed up like Zombie will be provided for 15 chosen visitors. They will be dressed up by our makeup artist so they will really look like the real zombies,' Candri said to PingPoint.co.id on EXGCon 2019 in Balai Kartini Jakarta, Setiabudi Sub-district, South Jakarta (14/12/2019).
A famous Youtuber and gamers, Sarah Viloid, also enjoyed and enlivened the Experience Zone Call of Duty Mobile in EXGCon 2019. She also strolled around and came to the visitors to give a quiz with money prizes with questions about Call of Duty Mobile. After playing the target-shooting game, the girl who is familiarly called Oliv was also telling the aspects that make her fond of playing Call of Duty Mobile.
"Actually I am a battle royale player, I also play Battle Royale on Call of Duty Mobile. But when I want to get savage, I play the multiplayer mode. The zombie mode is also really cool." said Sarah Viloid.
Dua Kelinci is really satisfied with the collaboration with Garena Indonesia through its brand, Sukro, to Experience Zone Call of Duty Mobile. Edwin Sutiono, Dua Kelinci Director explains if this is not the first time for them to cooperate with Garena Indonesia since they also cooperated with another game from Garena such as Arena of Valor and Free Fire.
"I personally see if Call of Duty Mobile is quite amazing. I have been a fan of the Call of Duty series for several years and I saw potential. That is why I brave myself to cooperate with Garena Indonesia through Call of Duty Mobile. Besides Experience Zone, we also make an agreement to do collective co-branding so our packaging especially Sukro Garlic and Roasted Corn variant products are repackaged with Call of Duty Mobile design that could be redeemed with prizes or loot boxes if you are lucky," he said.