 Celebrate the Dua Kelinci 35th Anniversary, Dua Kelinci Offers Interesting Prizes for You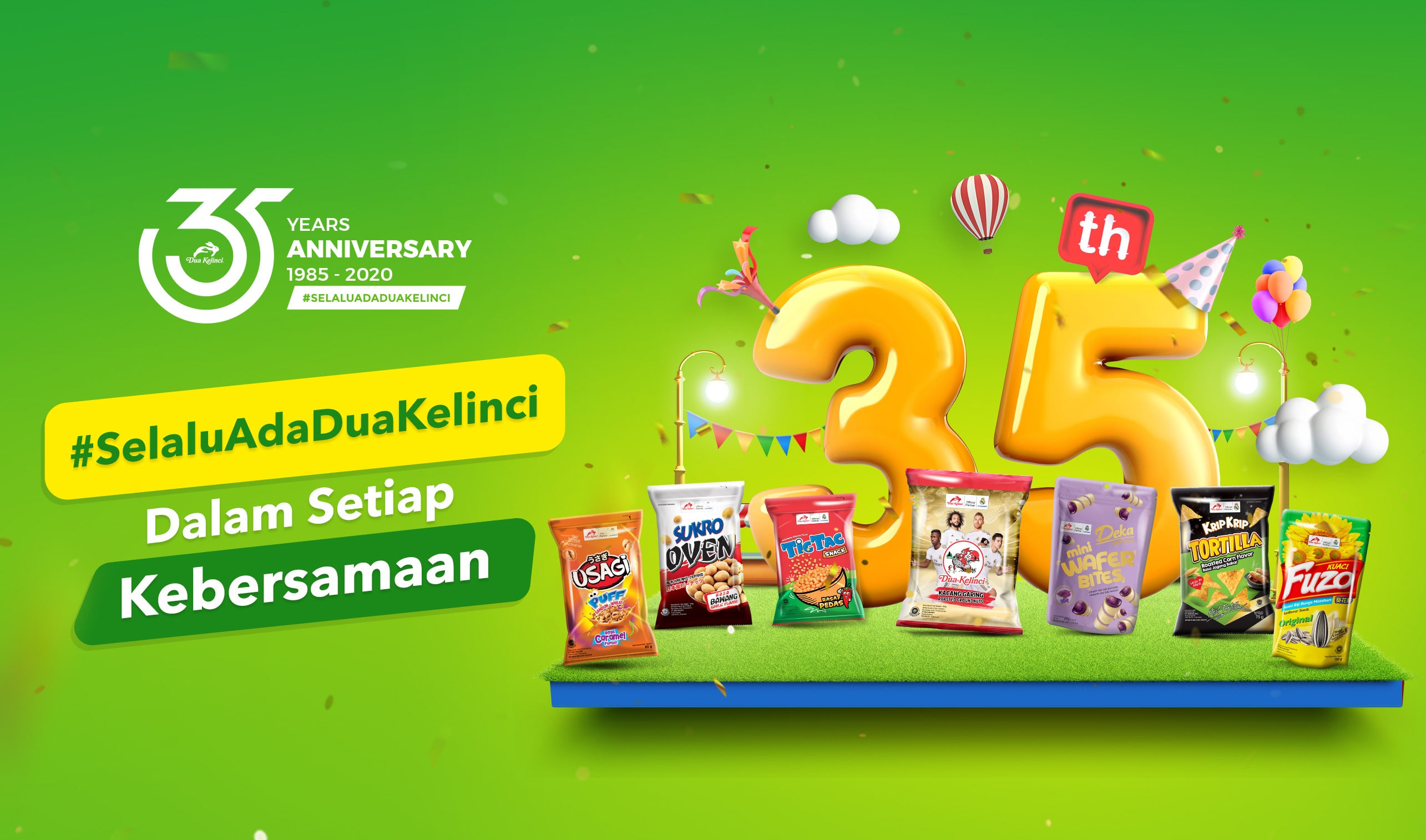 Try to check your list of favourite snacks, there must be Dua Kelinci on your list. It could be Sukro, Dua Kelinci Peanut, TicTac, Krip-Krip, or other Dua Kelinci snacks. This snack from Dua Kelinci is like a part of our life because whatever activity you have, #SelaluAdaDuaKelinci in our activities. Family time wouldn't be complete without this snack. Eating rice without pouring TicTac on it also is feeling empty, right?
On 15th July 2020, Dua Kelinci enters his 35th anniversary. This favourite snack has been with us for a long time. Who was born earlier? You? or Dua Kelinci? hahaha. As a thank for the customer's support that makes Dua Kelinci could last till this day, Dua Kelinci offers interesting prizes that have been prepared for you. How to get the prizes? Let's check the terms and conditions below!
1. Follow our Instagram account at @duakelinci or another Instagram account of Dua Kelinci brands.
2. Purchase any Dua Kelinci products in Dua Kelinci Official Store in the market places such as Tokopedia, Shopee, Bukalapak, Lazada, and the offline store.
3. Make a birthday quatrain as creative as you can in a picture or video on your Instagram Stories by attaching the receipt.
4. You can send more than one photo or video.
5. Edit your birthday photo or video by using Giphy of Dua Kelinci or your other favourite brands from Dua Kelinci (Deka, TicTac, Usagi, KripKrip, Fuzo, Sukro).
6. Mention @duakelinci or other brands you purchased and tag three of your friends to participate.
7. Use hashtag #SelaluAdaDuaKelinci #35TahunDuaKelinci.
8. Highlight it and name it 35th Dua Kelinci.
9. The winner will be announced every week and will be chosen randomly by Dua Kelinci.
10. The Event Period is from 15 July 2020 - 2 August 2020.
11. Three lucky winners for every week will get interesting prizes from Dua Kelinci.
12. The winner decision is absolute from Dua Kelinci and can not be challenged.
13. The winner is expected to keep the receipt for winner verification.
Yups! Those are the terms and conditions that you must follow so you can get interesting prizes from Dua Kelinci. It's easy, right? Makes sure you follow the rules to win the prize! Let's get together and celebrate #35TahunDuaKelinci because of #SelaluAdaDuaKelinci in every activity of ours.